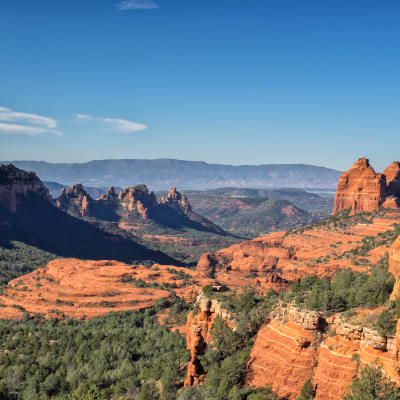 Do Sedona
One day is not nearly enough time to get the flavor of Sedona. Many of our guests suggest a 3 day stay teases them to come back for a week or more. Some come for the week the first time and are not sorry as they return again and again. We promise to keep you busy for as many days as you wish and allow some relaxation time also.
What to see in Sedona?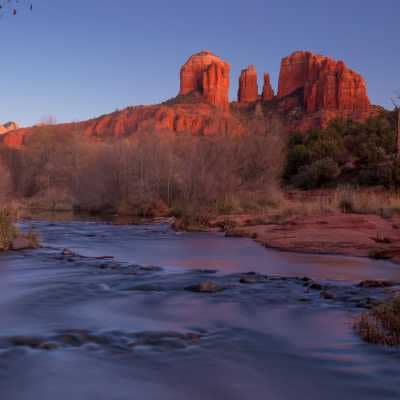 West Sedona
West Sedona (Dry Creek Road)
West Sedona where our B&B is located, provides wondrous hiking off of Dry Creek Road in many areas including Boynton Canyon. We have maps and hiking books as well as our own experience to share with you for all comfort levels of hikers. Just a drive out Dry Creek Road is a photographers delight.
Sunset view of the cock's comb rock formation
West Sedona (Red Rock Crossing)
Cathedral Rock at Red Rock Crossing is the most photographed rock structure in Arizona, and will continue to be if we keep sending you out to this most beautiful of our local parks. ($10/car entry).
West Sedona (Red Canyon Ruins)
The Palatki and Honanki ruins had been a Sedona secret for many years and not many visitors saw them even though they are the most spectacular ruins in the Sedona area not managed by the National Forest Service. You can actually enter the dwellings and there are pictographs and petroglyphs on the walls. There is a local "Friends of the Forest" volunteer to answer questions and protect the site
West Sedona (Red Rock State Park)
There are hiking trails including the one to "The House of Apache Fire". You can take a guided hike here as well as guided bird hikes. This Arizona State Park is dedicated to environment education. There are films as well as displays. ($10/car entry)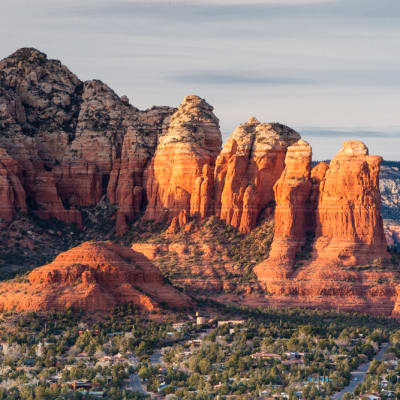 Airport Mesa
Sunset at airport mesa or the airport vortex is a must. Drive up Airport Road from 89A in West Sedona. What a perfect way to set the mood for dinner in one of our more than sixty restaurants.
This is a photo taken of the sunset from the scenic viewpoint halfway up Airport Mesa. The sun was setting behind the Airport Mesa and the result is as though a spotlight were being shown on the rock formations... I believe this is my favorite spot in all of Sedona...simply breathtaking.
A Day in the West offers jeep or horseback to the Bradshaw ranch where over 40 western movies have been filmed. You can include dinner at the western film set with your tour if you wish. They will pick you up at our B&B. We offer the "Apache ambush Thrill Ride" as one choice in our jeep or horseback package. They also offer many excellent sight seeing tours by jeep.
Sedona Red Rock Jeep Tours will pick you up at the B&B and are another choice for our jeep or horseback package.
For an early morning breathtaking view of the red rocks we suggest the Red Rock Balloon Company. They pick you up at the B&B and take you up in the red rocks of West Sedona at sunrise followed by a Champagne breakfast. What a way to start your day.
The Verde Canyon Railroad takes you on a four hour train ride along the Verde River into the Sycamore Canyon only seen by rail or on foot. Wildlife and nature are the highlights of this tour. It is narrated one way. First class includes hors d'oeuvres.
Arizona Helicopter Tours, and Sedona Biplane, are just two of the ways you can get your feet off the ground and see spectacular scenery of Sedona that can only be seen by air.
Colorado River Rafting day scenic FLOAT trip on the Colorado River through spectacular 1400 foot cliffs are available from our Bed and Breakfast.
GOLF - Oak Creek Country Club is a Robert Trent Jones Championship Course. This is the course we do our golf packages with. We would be happy to make tee-times for you.
HIGHWAY 179 (Shopping Shopping)
TLAQUEPAQUE: is a re-creation of a Mexican shopping village near Guadalajara. It translates to the "finest of everything". The American male remembers the name as he pronounces it "to lock your pocket". The architecture, flowers, trees, alone are enough to suggest some time here. This is another favorite of Sedona brides. Some of the most wonderful art can be found including sculptures by Susan Kliewer (Susan sculpted the larger than life statue of Sedona Schnebly located at the library off of dry creek road.) The city of Sedona got it's name from Mrs. Sedona Schnebly when her husband Carl submitted the name Schnebly Station and it was refused because it would not fit on a postal stamp. Open 10-5 winter and 10-6 summer.
HIGHWAY 179 (Gallery Row)
Not only does Tlaquepaque have wonderful shopping but you will find wonderful shops and art in Gallery Row beginning at the Oak Creek Bridge going south including Hozho, Garlands, and the Hillside shops among others. links
HIGHWAY 179 (Chapel of the Holy Cross)
The Chapel of the Holy Cross designed by Marguerite Brunswig Staude is considered to be one of the significant modern churches in the world. It took an act of Congress to build it on national forest lands. The views are stunning. Now a visitor center open daily 9-5.
HIGHWAY 179 (Bell Rock)
Bell Rock located on the East side of highway 179 is one of the best known red rock formations and one of the most climbed on and fallen off of. It is located near the highway where there is also a new hiking trail called Bell Rock Pathways.
HIGHWAY 179
HIGHWAY 179 (Sedona SuperVue Theater) Treat yourself to a most powerful and awesome film of Sedona. A Giant-Screen movie of an aerial journey through the wilderness area and a jeep ride through the back country. There is a feature film nightly at 7pm.
DAY TRIP TO INDIAN RUINS
If you choose to stop here on your way into Sedona exit I-17at the 298 mile marker, turn right onto the forest service road, over Beaver Creek, and you will soon see the sign for V-BAR-V on your right.
Continue to Montezuma's Well. It is a limestone sink hole formed by the collapse of an immense underground cavern. The springs that feed it flow continuously. Both the Hohokam and Sinagua diverted the water to irrigate their crops as well as built their homes in the area. Walk to the bottom of the well to see how their irrigation canals worked and dangle your feet in the cool water on a warm day and try to imagine how the people went about doing their daily work.
From here you can go to the Montezuma Castle site where you will find an amazing five story cliff dwelling built in the 12th century by the Sinagua farmers and a wonderful visitor center. On the paved pathway you will find many plants identified for you. ($2/person entry).
Off on Highway 260 thru Cottonwood to Clarkdale where you can walk thru the Tuzigoot Indian dwelling site built between 1125 and 1400. It crowns the summit of a long ridge that rises 120 feet above the Verde Valley. It was inhabited by 50 to 200 persons.
Now it is off to Blazing M Ranch for a wholesome cowboy show and western meal or back to Sedona.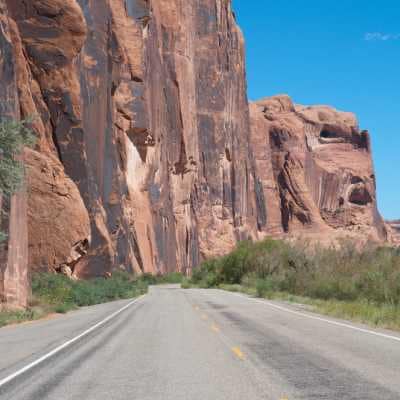 HIGHWAY 89A NORTH (UpTown)
Sedona Arts Center Website: http://www.sedonaartscenter.com
Located in the Uptown area of Sedona is the Sedona Arts Center. It is a not-for-profit organization whose mission is to provide arts education and establish an appreciation of the arts which will emphasize Sedona as an artistic community and facilitate artists' development. There are many art programs open to the public as well as classes of instruction.
HIGHWAY 89A NORTH (Oak Creek Canyon)
It has been suggested that the Oak Creek Canyon is one of the top 8 Scenic drives is the United States. It is a drive you will take if you do a day trip to the Grand Canyon or you can enjoy a day in the Oak Creek Canyon Hiking, Fishing, Photographing or just Enjoying.
HIGHWAY 89A NORTH (Slide Rock State Park)
This area was the summer playground for the Phoenicians before it became a park. It is a natural water slide in the Oak Creek 7 miles North of the "Y". A wonderful way to cool off in the Summer and rinse the Red dirt off after a jeep or horse back ride. There are some nice walking trails also.($5/car entry) photo
(West Fork Hike)
This hike is particularly beautiful in the Fall and Summer as it has such beautiful color and you get to ford the West Fork of the Oak Creek many times. "Call of the Canyon" is the lesser known name. Three miles North Slide Rock State Park ($10/car entry)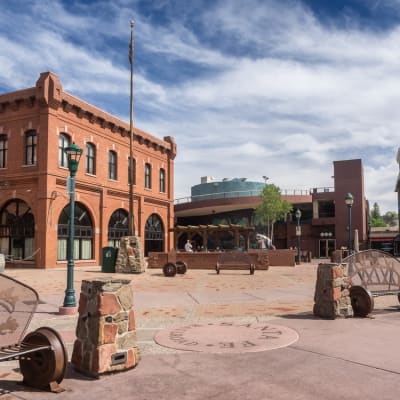 Flagstaff
Highway 89A continues to Flagstaff. The elevation of Sedona is 4500' while Flagstaff is 7000'. The route is covered with tall timber and can be snowed in during winter. You can stop at the Scenic Overlook at the top of the switchbacks where there are both beautiful photo opportunities and the site of the Native American Arts Cooperative, a group that certifies the authenticity of Native American made Jewelry and other goods for sale there.
(Lowell Observatory) The Observatory houses a 100 year old telescope and the personal library of Percival Lowell, the astronomer who discovered Pluto. A Tour is available.
(Museum of Northern Arizona) The Museum has exhibits and artifacts of the Native American People and history of the area. A gift shop offers art by Hopi, Navajo, and Zuni crafts people.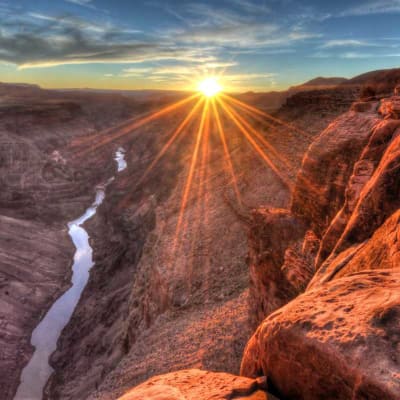 Grand Canyon
(Driving Day Trip to the Grand Canyon)
Many of our guests leave after a hearty Southwest breakfast for the Grand Canyon and return in time for a Sedona Sunset. One route is 89 North of Flagstaff to the Sunset Crater National Park Loop. This is a 31 mile loop road that will take you to Sunset Crater, crater and lava flow area, next a panoramic view of the Painted Desert and the arrive at Wupatki ruins. These ruins include not only a pueblo, with original 800 year old beams in place, but also a ball court and sacred blow hole. At the end of the loop road you'll continue North on 89 into the Navajo Nation.
The 100 year old Cameron Trading post can be an interesting stop with their gift shop, museum, and Navajo tacos. (A small one for two). From there you enter the Grand Canyon through the Navajo Nation and may see them selling their arts on the side of the road. This will take you to the East entrance to the South rim of the Grand Canyon, usually less traffic than from the South entrance.
After a late lunch at the historic El Tovar Hotel, we recommend a 15 to 45 minute hike down the Bright Angel trail to give you a feeling of being below the rim. You must stop at the IMAX theater enroute back to Sedona via Highway 180. This is a very rewarding day. A jacket may be needed at this altitude.
(Grand Canyon Tour)
You can do commercial tours to the Grand Canyon via air or land. We will be happy to make arrangements for these tours if you do not prefer to do the driving. Grand Canyon 'Deluxe' Tour Lunch & IMAX included $95/per person
We can also make arrangements for air tours over Monument Valley, Lake Powell, and other sites; or ground tours to the Navajo & Hopi reservation including a tour to the Hopi First Mesa. A real treat.
Tour - The Wildland Trekking Company - Guided hiking and backpacking tours to the Grand Canyon
FYI Arizona
Organized as a territory on February 24, 1863.
Entered the Union on February 14, 1912 (48th State).
Present Constitution adopted in 1911.
Capital: Phoenix
Governor: Jane Dee Hull, R (in office to January 2003)
Senators: Jon Kyl, R (in office to January 2007)
John McCain, R (in office to January 2005)
State Motto: Ditat Dues (God Enriches)
State Flower: Flower of the Saguaro Cactus (1931)
State Bird: Cactus Wren (1931)
State Colors: Blue and Old Gold (1915)
State Song: "Arizona" (1919)
State Tree: Palo Verde (1954)
State Gemstone: Turquoise (1974)
State Fossil: Petrified Wood (1988)
State Attractions:
The Grand Canyon
The Petrified Forest
The Painted Desert
The Hoover Dam
The reconstructed London Bridge at Lake Havasu City
Number of counties: 15
State parks: 28
Residents: Arizonan, Arizonian
Nickname: Grand Canyon State
Origin of Name: From the Indian "Arizonac," meaning "little spring" or "young spring"
Land area: 113,642 sq mi. (296,400 sq km)
Largest county by population: Maricopa, 3,072,149 (2000);
Largest county by area: Coconino, 18,562 sq mi.
Arizona 10 Largest Cities by Population (2000)
Phoenix 1,321,045
Tucson 486,699
Mesa 396,375
Glendale 218,812
Scottsdale 202,705
Chandler 176,581
Tempe 158,625
Gilbert 109,697
Peoria 108,364
Yuma 77.515
Arizona 2000 resident census population (rank): 5,130,632 (20)
Male: 2,561,057 (49.9%)
Female: 2,569,575 (50.1%)
2000 percent population 18 and over: 73.4; 65 and over: 13.0; median age: 34.2.